Marco Polo Sheep Hunt
"Ovis Ammon Polii"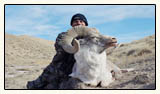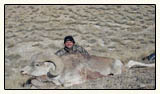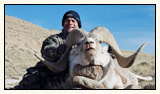 12 Day Itinerary After Arriving in Bishkek

This hunt is for one hunter guided as 1x1.

12 day trip with 10 hunting days on an exclusively 100,000 hectors of one of the most highly populated regions in the world. This area is located approximately west of the Uzengikush river basin.

The hunter should have no problem seeing many mature rams in this region.

This Hunt Includes:


Meet & greet & custom clearance at the Bishkek international airport during arrival and departure.
Transportation to hunting camp & back, meals, full & comfortable accommodations in mobile stationary trailers or hunting house, one interpreter, and all ground transportation during the hunt, by using mainly horses, and jeeps.
The hunting in the hills & mountains every day is done on horses. Elevation is approximately 10,000 -12,000 Ft.
The hunt could take place in one of two main camps, & possibly including many permanent spike camps.
Government harvest permits / tag, CITES tax, vet papers, and animal preparation of horns and skin.

Not Included:


Hotels & meals before and after the hunt are not included, the cost ranges between $38 & $150 per day.
Entry visa $50 STC.
An ibex can be harvested during the sheep hunt for a fee.

Credit cards can be cashed in the main banks in Bishkek.

The Marco polo sheep is a CITES import permit animal and requires a minimum of 3 month or more time to obtain the CITES permit from both countries, hunter must apply as early as possible. Usually the confirmed permits are issued in June or July.

The hunting Season is from 15th August until 25th November & again from 7th January until 1st of March. The breeding season starts mid November until mid December.